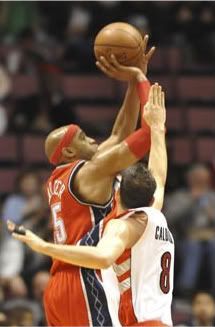 As many of you already know, hall of fame NBA coach and broadcaster Chuck Daly passed away last week. A class act through and through, Daly was renowned worldwide for his ability to keep teams together. In his two seasons with the Nets, he had personalities as different as Kenny Anderson, Derek Coleman and the late Drazen Petrovic on close enough pages to get them to play playoffs both seasons.
For a short time, while Daly was at the helm, the Nets were a team that the rest of the league respected. Where they as dominant as some of Daly's other teams? No way. As a matter of fact, it would be borderline crazy to compare the Bad Boy Pistons to the the mediocre Nets of the early 90s, but after the coaching tenures of Willis Reed and Bill Fitch left the team towards the bottom of the league or barely at .500, the fans in New Jersey were hungry to get the Nets to the playoffs on a consistent basis.
Daly did just that, as he was a combined 88-76 in his two seasons in New Jersey.
"I played against Chuck's teams throughout the NBA for a lot of years. He always had his team prepared, he's a fine coach," NBA legend Larry Bird told the Associated Press shortly after Daly's pancreatic cancer diagnosis became public.
Rest in peace, Chuck.
Nets Not Pondering Draft Options- Nets President Rod Thorn seems to already know what the team will be looking for this upcoming draft and is now making sure his team is ready to get exactly what it needs to get to the next level.
"It appears we are going to be 11," Thorn said. "We'll start doing the interview process, the workout process (after the May 19 lottery). I would say right now, if we could get a rebounder-slash-defensive player, if one of those guys were available, we would look at him very closely."
That comment alone seems to verify what Vince Carter said a month ago when he believed the team was a good rebounder away from being a playoff team.
With less than a week to go before the NBA draft lottery, things could start to get interesting very quickly.
Photo by Bill Menzel.