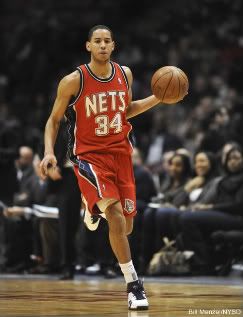 Before the season began, the New Jersey Nets had a minuscule chance to make the playoffs, especially when you consider the fact that their roster was filled with rookies, developing youngsters, unproven veterans and one superstar in Vince Carter that seemed like he was ready to start his decline.
However, the Nets managed to bite off more than a hearty helping of mediocrity and stay out of the cellar despite injuries and inconsistency.
Nevertheless, the team isn't happy with the way the season ended.
"You should never allow anyone's outside expectations to affect your internal expectations. Our goal was to get to the playoffs and we didn't make it so we're disappointed," Nets coach Lawrence Frank, who will return as the Nets' head coach next season, told the Associated Press. "But I think our guys have played with integrity, honor and respect for the game."
There is more than enough light at the end of the tunnel however.
Over the last 15 or so games, Chris Douglas Roberts proved that he could be much more than a player that could round out the bottom of a depth chart. With Keyon Dooling expected back healthy after hip surgery a few days ago, the Nets should have plenty of depth at the guard position and shouldn't have nearly as many problems as they did this season when Devin Harris or Vince Carter were hurt or cold. That alone should play a role in the team's success next season.
However, the development of Brook Lopez and hopefully the attitude adjustment of Sean Williams would sure up the Nets where they need it most, on the boards. If Lopez continues to be a guy that can score anywhere from 12-16 points and can grab a few more boards, the Nets will be in a much better shape and will officially have a new "Big Three." Williams, in turn, can earn a reputation as an energy guy who can play power forward and center, giving the Nets added versatility, especially considering how inconsistent Ryan Anderson and Yi Jianlian can be at times.
The small forward position still seems like a conundrum at this point and maybe that's something the Nets can solve in the draft. Nothing against my favorite lunch-pailer Trenton Hassell or the undependable Bobby Simmons, but if the Nets are ever to get back in the playoffs, addressing the situation at small forward is a great place to start.
Photo by Bill Menzel.