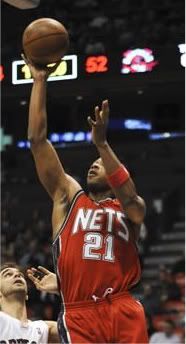 Despite the fact that many NBA insiders feel that the New Jersey Nets had a better season than they should have expected, staying at .500 for a good half of the season, the team itself feels they still have a ton of work to do before becoming the team they'd like to be.
Battling injuries to key players and inconsistency from their bench and several young players, the Nets indeed have a plethora of work ahead of them before they'll be a playoff team once again.
"It's very disappointing," Nets head coach Lawrence Frank told the Burlington County Times last week. "It hurts. It hurts not being able to participate in the playoffs. We're a 34-win team. Is that acceptable? No. We want to put ourselves in position to be a playoff team. It you're not in the postseason, then you should be disappointed."
Earlier in the season, many felt that Frank was in danger of losing his job. However, it appears for the time being that the young coach has a home for at least one more season.
A season that will either cement his reputation in the league or force him to attempt to find a new home to do his job.
"I have always liked Lawrence as a coach and been supportive of Lawrence," Thorn told the Associated Press a few days ago. "I know a lot of good things he does as a coach, it's part of it. We've won a certain number of games two years in a row and it's natural we sit down, we always sit down at the end of the year and talk about players, coaches and this is part of it."
While Frank and the organization feel a bit more pessimistic about the team's current situation, the team itself has a few ideas on how to make sure they don't miss the playoffs for a third consecutive season.
"We're just a couple of pieces away," Vince Carter insisted to Yahoo Sports. "Rebounding, that's what we need. We just need a guy who cleans up the glass. We have a lot of scoring. We have a lot of shooters. We have guys who can just get a bucket when you need it."
While Brooks Robinson was no slouch on the boards this season, Carter definitely has the right idea here. A player that could help out on the boards at the power forward position could be a huge step in the right direction for this team, especially considering how inconsistent Yi Jianlian was last season.
Photo by Bill Menzel.