For many Nets fans, Kenyon Martin will always be the one that got away.
At one time, Martin was one of the core players on a Nets team that finished first in the Atlantic Division. It was before the arrival of Vince Carter and Devin Harris and before Byron Scott got the ax in favor of Laurence Frank.
Oh, how things change in a few years.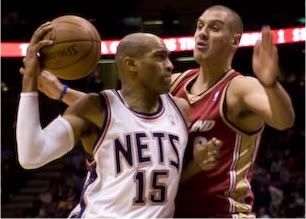 Not one player from that team in 2003 is still on the Nets roster today, but the organization has found some of the missing pieces. While Jason Kidd's creativity was key to that team, it has been replaced by Devin Harris' spunk and desire. Kerry Kittles' shooting ability has been replaced with the same shooting ability plus a dose of leadership and consistency from Vince Carter. The platoon of Dikembe Mutumbo and Jason Collins [who at that time was a solid defensive center] has been replaced by a better and younger combo of Brook Lopez and Josh Boone. The bench may not possess players the likes of Aaron Williams, Lucious Harris, Rodney Rogers and Brian Scalabrine anymore but Keyon Dooling, Eduardo Najera, Jarvis Hayes and Ryan Anderson aren't too shabby either.
Nevertheless, there was one thing the team hasn't replaced since 2003.
The toughness, desire and in your face attitude Martin brings to the court every single night.
Sure, his numbers aren't as sexy as they were when he was on the Nets, but he's a useful player that makes whatever team he's playing for better. Nothing against Yi Jianlian, but he's not the same forward K-Mart is and most likely will never be. Now it would be crazy to even think for a second that the Nets should go after him again, but it would even crazier to fail to realize that this team is in need of a banger. Someone who has the grit and fortitude to make the opposition antsy.
Right now, Devin Harris and Vince Carter are arguably the best backcourt in the NBA. They work hard in both ends and do everything they have to in order to keep this team afloat. Not many teams with records under .500 could even fathom having two all-stars, and believe it when it's said that no one in the league would have complained if both Carter and Harris were in the game.
Nevertheless, no team is ever afraid to play the Nets anymore.
That could be the biggest reason why the team is where they are right now, just not good enough to secure a playoff spot.

Photos by Bill Menzel.